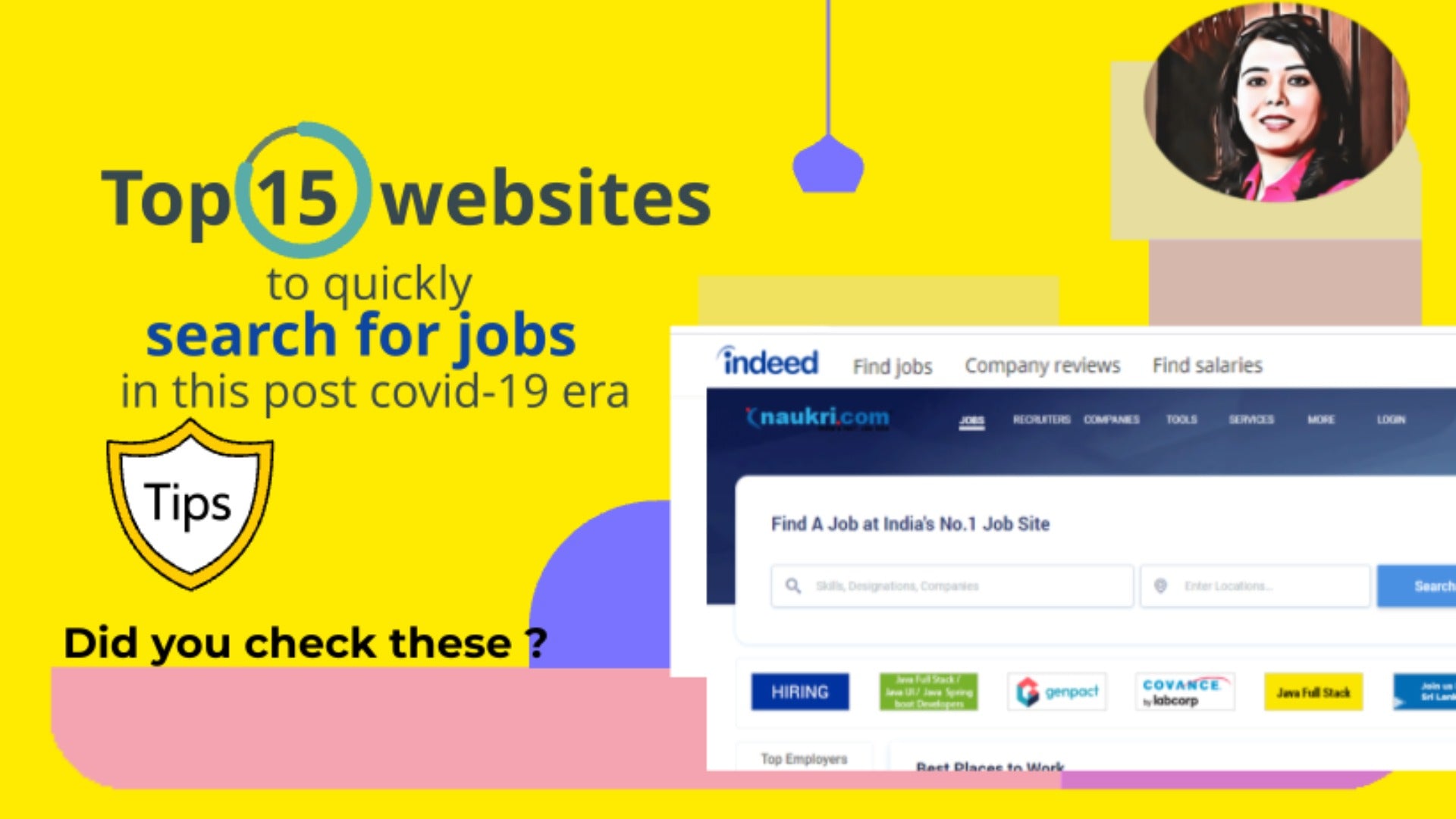 Is there a job for me ? Check top 15 websites to quickly search for jobs in this post covid-19 pandemic era.
Check top 15 websites to quickly search for jobs in this post covid-19 pandemic era.
This post first appeared on creativehrquantum.com . You may also read it here 
This post has been written keeping in mind that one question that is being asked over and over again by several colleagues, friends, family members – Is there a job for me? I have come across several people asking the same questions with great agony – I'm looking for a change… I have no job… Where to get it? Where to apply? Pandemic has changed everything… It seems there is no job…
While the reason behind difficulty in searching for the dream job may be as difficult and varied as finding the job itself, something can definitely be done than doing nothing about it. A successful career demands an overhauling of one's personality, behaviour, attitude, decision making, skills and networking.
While we will be covering all of these in our next articles, here's something you can try so that you are atleast aware of the jobs around you and you can apply. 
Many a times, people don't even know about popular jobsites besides a few. Why don't you try out the following jobsites to brighten up your chances of getting the job of your choice? So don't be lazy to try out.
Please note that following list of websites is in random order and not in any order of ranking in terms of popularity, job postings or any other area.
It is one of most popular jobsites among jobseekers globally including India. Indeed is an American worldwide employment website for job listings launched in November 2004. It is a subsidiary of Japan's Recruit Co. Ltd. And is co-headquartered in Austin, Texas and Stamford, Connecticut with additional offices around the world. According to their website, indeed.com has about 250M unique monthly visitors17Mresumes 32M total ratings and reviews. 10 jobs are added per second globally 75M salaries. You may explore relevant job openings on this website. https://in.indeed.com/about
Naukri.com is the flagship brand of Info Edge (India) Limited and India's largest online job website. To retain its leadership position, the company constantly invests in product development and improved user experiences through search tools and better site response.
As of March 31, 2016, naukri.com had a database of about 46 million registered job seekers and an average of about 12,000 résumés were added daily. If you are actively looking for a Job, then you must leverage the vast job network available on this platform.
LinkedIn was officially launched in 2003, the world's largest professional network with nearly 800 million members in more than 200 countries and territories worldwide.
You may browse for jobs on LinkedIn. LinkedIn has gained lot of popularity on professional networking and authentic job postings. You may try building a good profile page on LinkedIn and explore good job opportunities. https://about.linkedin.com/
Over the past 20+ years, CareerBuilder has helped millions of people find jobs. Career Builder is a global, end-to-end human capital solutions company. You can find CareerBuilder and its subsidiaries in the U.S., Canada, Europe and Asia.
Monster is a global online employment solution for people seeking jobs and have expanded from its roots as a "job board" to a global provider of job seeking, career management, recruitment and talent management products and services. Headquartered in Hyderabad, Monster India started its operations in 2001 and has presence in 11 other cities of India viz., Mumbai, Delhi, Bangalore, Chennai, Pune, Kolkata, Ahmadabad, Baroda, Chandigarh and Cochin.
In January 2004, TimesJobs.com, the fastest growing Indian online recruitment portal, was born with a mission to reach out to all Indians in the country and abroad and provide them with the best career opportunities available.
It was founded in 2008, over the past decade, Shine.com has become a prominent name in the recruitment industry. The popularity of the portal is evident from the fact that it has crossed the 3.4 crore candidate landmark and has more than 3 lakh latest job vacancies from leading companies on the site.
Launched in 2010, Internshala is now quite popular among students or graduates with 0-2 years of experience in India. You must explore this platform for internship opportunities.
Glassdoor launched in 2008 with its headquarter in San Francisco, California. It is quite popular among people looking for more insights about jobs and companies. It offers insights into the employee experience powered by millions of company ratings and reviews. Not many people are aware that Glassdoor also helps you find latest jobs. You may try this. https://www.glassdoor.com/about-us/
The iimjobs network has now grown into a platform connecting more than 13,00,000 jobseekers. You may explore this platform for finding jobs in India. https://www.iimjobs.com/aboutus
Simply Hired is a job search engine that collects job listings from all over the web, including company career pages, job boards and niche job websites. Simply hired job search is also tailored for India.
Flexible Jobs
If you are looking for more flexibility in your career, you may be interested in exploring work marketplaces such as Upwork, Freelancer or Fiverr. These online portals connect businesses with freelancers, independent talent, and agencies around the globe. You may also find another portal flexjobs job site to find vetted remote, work from home, and flexible job opportunities. https://www.flexjobs.com/
Aggregate Jobs
13. Google.com
You can get aggregate of all the jobs posted online on google's platform. Just type "Jobs" in google search bar to get all nearby jobs. You may further refine it by field of work, location or other details. This may save your time by quickly scanning through all the current jobs.
Other options
14. Your dream company's job site or career portal
Many a times, companies post latest jobs on their own career webpage. Type your dream company's name in search engine such as google and get a website. Visit your dream company's website and find the career page in the header or footer section. You may follow the instructions given on the page and apply.
It's time to be creative. Be visible
Applying for job is only a small part of the whole story. A successful career demands an overhauling of one's personality, behavior, attitude, decision making, skills and networking. In order to stand out, you need to explore creative ways and build key skills.
Enrol for customized one to one sessions focusing on your problems, goals related to job search, interview skills, notice period transition or any other problem related to your career.
Creativity is the need of the hour. To stand out amid tough competition post covid-19 era, be creative. Your unique skills need to be highlighted. How about a CV or portfolio website. This can instantly boost your visibility. Consult us for more creative options.
You not only learn key skills but also get special creative boosters and technology backed up solutions to get your problem solved. You may contact at 8447144717 or write an email at contact@creativehrquantum.com.
Caution Points and Tips
Caution
Be aware of calls from scammers

 

posing as recruiters from top companies or job portals with similar email ids or websites. Minutely check the website url and email ids before attending to the emails and calls.
You must

 

avoid applying for job postings requiring no specific skills

 

or experience, but offering attractive salaries. These may be scammers.
It may be a

 

fraudulent job posting

 

if you observe spelling mistakes, grammatical errors, poorly written job description, unofficial email ids created using free web mail services such as gmail, yahoo, hotmail etc.
Be wary of

 

paid job offers. Authentic employers do not require any fees to be paid by jobseekers. So do not apply for such jobs.
Stay away from replying to

 

emails for online jobs

 

that ask you to provide

 

bank information.
Never agree to meet employer at private residence for an interview
Tips
First of all, you need to

 

have clarity

 

about how you want your career life to be. For this spend at least half an hour to write about career goals, your unique skills and list all that you enjoy doing. Then pick the relevant job postings and apply accordingly.
Do not apply for every job posting

 

on every job portal that comes your way. Shortlist the job postings matching your goals, aspirations and skills and then apply. This will save your time and energy to prepare for the next steps may be an interview.
Carry your

 

personal value proposition card

 

always ready with you. This will give you the much needed confidence and clarity while attending interview calls and make a great first impression. Please feel free to

 

get in touch

 

with us..
To a greater extent,

 

highlight your specific skills and experience matching the job

 

requirement. This will help the recruiter to quickly determine your fitness for the job and ensure greater success ratio.
Keep all the information mentioned in your

 

CV absolutely correct

 

and up to date mentioning about your latest achievements and updated contact details. Any fake or incorrect information mentioned by you in your CV or profile may lead to blacklisting by the recruiter.
Build your profile page effectively

 

on jobsites and social or professional networking sites. Use engaging headline. Enter relevant keywords and key skills. Recruiters generally enter specific skills or keywords in the software to find matching candidates and your profile may appear in the list only if you have entered correct skills or keywords in your profile.
To stay ahead, you need to

 

get trained on latest skills related to your field

 

of work or industry. Don't know what to do. Get a

 

personalized guidance

 

from us.
To stand out amid tough competition post covid-19 era,

 

be creative. It is important that you highlight your unique skills. There are several creative ways to do that. How about

 

CV or portfolio website..

 

Consult

 

us for more creative options.
Source:  https://creativehrquantum.com/job-search/is-there-a-job-for-me/